Back to Lighting...
Why use LEDs? (11 replies and 20 comments)
After a lifetime of working in audio (with time off for good behavior running a trade-news agency) I am now crossing the great divide into learning all the other aspects of the movie industry.  And I am puzzled by the wholesale use of LEDs in lighting!
In audio, we didn't dump 2" analogue tape until digital was 'there' and it sounded as good or better than tape.  In film, I don't see anybody throwing good lenses away (the cameraman's equivalent of the microphone) and we are only now moving to digital cameras for mainstream movies with the advent of 6K sensors.
But when it comes to lighting, lovely old tungsten lights are being dumped by the skip-load in favour of LEDs and I fail to see why.  
In my home and in the studio we are 100% LEDs or fluorescents because they are cheaper to buy, far cheaper to run, last longer and can be placed in tight corners where halogen presents a fire hazard.  I can understand LEDs for TV studios because TV studios are often on 24/7 and require nowadays a great deal of automation, so hitting a preset on a DMX desk makes a great deal of sense.  Add to that the noise problems of the heat-extraction fans because of all those hot lights and LEDs came on the scene like Mana from heaven!
Stage lighting has been transformed by LEDs and DMX controls.  Hit a single preset and all kinds of magic sequences and movements can be incorporated with hydraulics and flame-throwers and the reduction in power requirements has transformed the staging business completely!
But for film?  To my eyes, LEDs do not look particularly nice.  They seem to flatten out the image.  They detract from a more 'filmic' look and make things look like a video and considering the fact that we are now using digital 6K video cameras anyway, I would have thought one should try to achieve as filmic a look as possible.
It can't be power consumption because they are only on for a short while and the difference in energy costs is tiny compared to all the other costs one incurs in a film shoot.
And LED film lights are anything but cheap!  They present all kinds of nasty technical problems when it comes to things like colour and tint for a digital camera, they are hard to control and to dim properly and can present a series of 'gotchas' like pulsing, that only shows up weeks later when the image is viewed on a big projection screen.
So can some kind soul please put me out of my misery - what am I missing about LEDs that is making them so popular?
---
---
Not Roger, but I'll take a stab at this.
In blind tests, you most likely wouldn't be able to consistently  pick the LED source. 
They run cooler, they're cheap to run, they can be RGB, and they're so small they can fit in incredibly small spaces. Watch Paul Thomas Anderson's the Master which is filled with LEDs and see if you can tell. 
May I put in my 2 pence worth, for what is worth!
As everybody knows or may not know is that LED technology has been around for 100 years or so, not in the form as we know it but the technology is not new. Nearly every country has dabbled at it at some point but never really knowing what to do with it, until recently!
It was in the 1960's that they began experimenting again with this technology with a view to make money out of it. The early SLR camera's had low current LEDs installed as battery condition indicators at the rear of the camera's. These were really pin head size LEDs, they used very little current and lasted for years. In fact, I still have some old Pentax and Nikon camera's where LEDs were used in the VF prism to let you know if you were under or over exposing, I just put a battery to one camera and the LEDs were still working fine. These are very low current diodes and only work in dark or low light conditions, infact they are useless for anything else.
In the mid 1980's they experimented with the technology until they came up with improved semi conductors, which means that the current could be raised, with the introduction of Germanium, Selenium and Silicon semi conductors, this meant that you could raise the current that would be enough to excite diode to increase the brightness, so now the application changed so that LEDs could be used to illuminate but the boffins in white coats could not find a market for medium current diodes. Their use was still restricted to warning lights or indicators on a panel, their use was limited, so very little profit there. In the year 2000, semi conductors began to improve and experiments made to increase the current to a higher level, these LEDs could produce a decent light to power a new range of Torches( Flash lights) etc. These began to appear in the millions and paved the way for other uses eg, TV and film lighting and emergency lighting etc. The "Cree" bulb was invented which was a phoserous semi conductor which needed a high current to excite it but produced a powerful beam, the diode was fairly bullit proof but it needed a transformer and other components to power it. This is the week point of LEDs today, the components can fail early and then you have to throw the bulb away. Billions of resin diodes were produced bringing down the price of these bulbs so manufacturers then designed lights to take advantage of these cheap as chips light bulbs (LEDs). Most of these new lights came out of China, many  were not designed for film or TV use but for the Video fraternity, the cheap end of the market but the most profitable. These are now produced by the million, everybody wants one, because they are affordable even the Professional range by 'you know who', are 'badged' Chinese made ones. Everybody is making making money, this is a good business to be in. These lamps are quick and easy to set up due to their size and weight, you don't need "beefy men" to set these up and can pack away in a small van. The types can even change the colours by reducing the current with a variable resistor built into the lamp, you can alter the RGB in the silicon semi conductor to suit your needs. These are the ones most people are buying these days.
Understanding how diodes work helps to understand how they evolved, the technology has always been there but nobody knew how to apply it. It has made a lot of people wealthy and will continue to do so, is it what people need, probably not but what is the alternative, Mole Richardson will soon be using LEDs in their lamps soon. Film making will be forced to adapt to the new ways.
Thanks for that Mike, an interesting run-down of the development of LED technology.
Mole already makes tons of LED lights.
I actually just shot something with a daylight mole senior LED and it worked great. Ran off of wall power, fully dimmable without changing the quality of light. 
LEDs are awesome it's not a zero sum game.
every type of light is awesome and has its place.
That's interesting, I'm not a Mole user. Good to see them foresee the future. Is it LEDs performance they like or the cost savings.
It's both performance and cost savings. I had a PA run to wooden nickel and pick up a 5k LED in the back of his Mazda. Drove to the shoot and we used it with wall power.
No cube truck, no generator, no extra man power. Lots of savings.
They say tungsten lights are cheap to buy but expensive to power, and LED is expensive to buy and cheap to power.
Pretty soon LED may be cheap to power and cheap to buy.
And with RGB!
Would anybody else like to make a comment here, poor Andrews question still hasn't been really answered, This is a forum, anyone can make a contribution.
I think what I am on reflection asking is, given a stable studio environment, where old-fashioned lighting is already available, is there any reason for me to consider installing LEDs?  Is there something they can do that incandescent lights cannot do?
I understand why a run-n-gun and a location shoot would want LEDs.  But with LEDs having such prevalence in lighting catalogs, is there something I am missing?
LED run much cooler. Not unimportant in a studio.
Some LEDs have variable color temperature. Also a handy feature.
The Byre,
In your case, there is no advantage buying LEDs imo. Conventional lights are now cheaper to buy but still holding high prices. Bulbs are also still expensive which can be prohibitive but at least they will provide some heat for your cold studio. The LEDs could be an advantage as they take up little room and they are much easier to reset.
All depends on what you are using the studio for?
We have two buildings that we intend using for small interiors - up to 70 sq m (700 sq ft) in the one and about 50 in the other (sizes of set-interiors). Both spaces are about 4m high.
Apart from that, we have a total of 20 acres of grounds that provide various outdoor environments and set-building opportunities (pond, woodlands, fields and stuff like that) and in our first project, we shall be building a lighting scaffold to create moonlight shining through tall pines for a key scene.
it was that last scene that prompted this question, as we are going to have to run a 4kW line to the tower to create the moonlight. In the film after that, we shall have the same situation, but above a wet bog in which two people are struggling to get away from their pursuer in the moonlight, only to be shot dead one by one and fall into the water lifeless.
We are in a part of the World in which rental is not a viable option so we have to buy everything from cameras to lenses, jibs, dollies, lights, explosions, smoke, fog, aardvarks, the lot. This week I'm putting together the shopping list for set-building materials (50 sheets of plasterboard and oodles of timber) and in the coming weeks, lighting.
The arguments for lower power consumption do register as it is about 700m to the farthest corners of our land - but I was wondering if there are any other good (artistic?) reasons for using LEDs.
Hey! This is how Hollywood started, I suggest you get on the phone or email Nicola Sturgeon and get some sponsorship, 20 acres is a large patch, you can do wonders with that. Go to auctions and buy up the bits you want and upgrade as you go along. Personally, I would invest in a Generator, there are plenty around second hand but the Indian made ones are very popular and cheap or even the Chinese ones. But keep the costs down and don't splash out money if you don't have to.
This sounds very exciting, "Holyrood" studios has a nice ring about it. 20 acres Wow! Portable studios are the new thing, put them up, take them down. This is very exciting. "Beano" comic stuff!
Thanks, Mike!
It all started (one dark and lonely night and man too tired to go on - The Invaders! - This has been a Quinn-Martin Production!)
No! It all started when I kept hearing about people about to start a film studio in our part of the World. And then it would all fall through. Some numpty would announce the creation of a giant studio complex and that story would be picked up by the papers and shortly afterwards the same numpty would bleat out some asinine rubbish about "We canna get the funding." and one realised that he was all mouth and trousers!
This was all made worse by the various quangos being complicit in this game of charades, staffed as they were with civil service and BBC caste-offs - the people that they didn't want!
We moved here in 2000 from Deutschland after selling our news-agency so I could 'retire' to a lifestyle business and my first love of audio.
As luck would have it, we got several commissions from London film-music agencies so that their signed composers and arrangers could come up here and be windswept, groovy and creative. That went fine until budgets started to get thinner and more and more composers built their own studios and the agency moved into Abbey Road. So there we were with a 100 sq m live-room, grand piano, all the toys, bells and whistles and only local head-bangers as occasional one- and two-day customers.
We started a music school but getting decent teachers who stick the course and are reliable and don't try to steal customers for 'homers' and are prepared to work a full week proved too difficult, so I knocked that one on the head this year after three years.
We had done some video work back in the days of SD so I still had some lights, a largish jib and all sorts of other bits and pieces.
When it comes to audio, we want for nothing of course, as we have a 7.1 Lexicon 960L and a 5.1 & 7.1 60-frame desk from Amek and a 48-track Radar recorder and the usual workstations loaded with the usual software - and of course, we have oodles of microphones. So I thought, hey, let's go the whole-hog and start a film studio.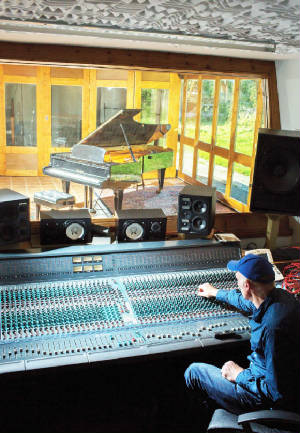 And yes - Hollywood was my first thought - how did they start? That and 'Where are the others going wrong?' The rather obvious first thought was - one needs a product. "Build it and they will come!" is bunk! They don't! You need films to make in a studio. And you need them FIRST!
Just as nobody builds a factory and then says to themselves, "Jeez, I do hope someone comes along and uses it to make something!" it dawned on me that building a studio away from places like Hollywood, Pinewood etc., etc., is pointless. The pioneers had the desire to make movies first THEN they put together the means to do just that - not the other way about!
So now we have two movies ready to go. The first is a zero-budget romp through the music biz (i.e. home turf!) about two young boys who inherit an old 1980s recording studio, only to find £500,000 under the floorboards that just happens to belong to a violent drug-baron. The second is a low-budget German-Scottish coproduction set in Scotland and Berlin.
So this year I have built a post-production and viewing room which can also double as ADR and Foleys room and we are converting other rooms into space for editing suites, storage and server spaces.
We have had to build the shed in the woods set twice (trees fell on it during a storm!)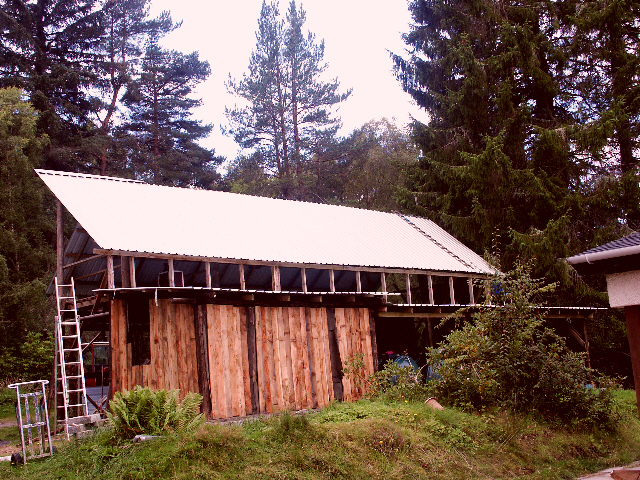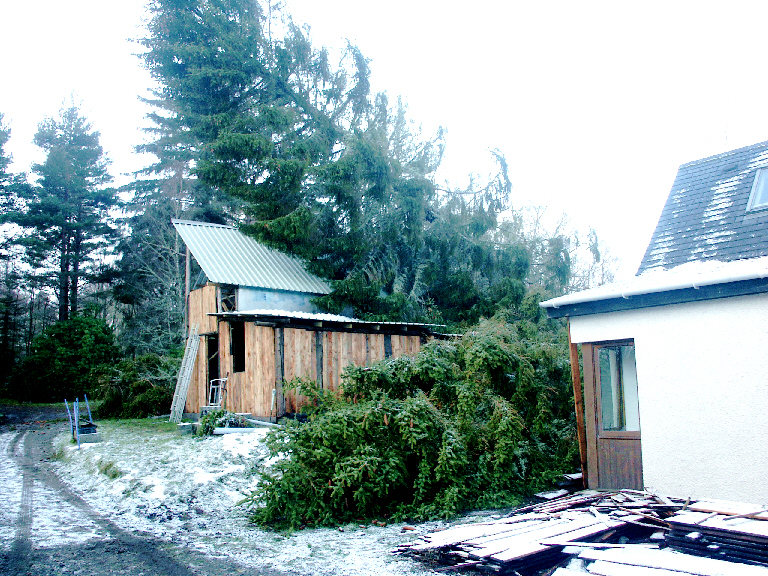 It's now back in one piece and contains our rather small carpentry and welding shop, as well soon housing the old-studio live-room set.
Once that gig is over, the shed becomes a small island church that is the brutal opening scene for film number two.  (Option bought and paid for, script still in development.)
Back to putting my shopping list together . . .
P.S. Now you see why Roger's lighting diagrams are so useful for me!
P.P.S. My images didn't come through for some reason.
I do like the script about boys inheriting a recording studio. Funny enough, I thought exactly of the same thing. That script has a lot of mileage in it and is worth writing a draught just to lay down the story and then bring in the characters later,
I love that, that is certainly worth pursuing, it's a great story imo.
I still supply spares (heads, motors etc) to Abbey Road to keep their old Studers working but have donated nearly all of my machines to the Film and TV museum Bradford. I also gave a lot of stuff to a friend of mine who now owns probably the largest collection of tape recorders in Europe, although now he ships a large amount to Japan. Some time back I set up a comedy school with Norman Wisdom, venue set up with council money, I then changed it to Film and Comedy school to include Drama as well, all under one roof but Norman stated to lose his marbles and decided to cancel the project, a lot of work went into this so I was deeply sad when we had to cancel it. I start another one with Sean Connery's son but again that had to be cancelled even though we converted a church into a theatre with Strand lighting and all the sound gear. It seams that setting up an idea is fairly simple and a lot of people will tag along but when it comes to actually doing it, people get cold feet and back out, I think they like talking about it or bragging it to their friends then they get scared of that four letter word "work" they run a mile. Your idea sounds really great, so make it happen, push aside the losers and stay with the winners. Phil Collins had a great recording studio near me with all the latest toys but nobody came, ofcourse the usual mob came and drank the booze and had a great time but paying the bill shook the life out of them, 'How much'?
When is the next train out of here! Serious people go to the prominent studios and pay! You are in one of the most beautiful parts of Scotland but ofcourse your "Bread and butter" money is in Glasgow and Edinburgh then aim at the provinces further South, but really, Manchester is your target for TV and Film work as they are desperate for location filming with a backlot. Will the council give you planning permission that's the problem. It's be nice to your local councillors time.
Shud read "Started to lose his marbles"
The script was written ages ago. All done and dusted! Mike - we have to get together some time - only you are at the wrong end of the UK! Do you have my email address?
There're loads of young and retired talent up here - Our special FX guy is a retired LA FX man who also spent a long time working at Pinewood. There are many others, such as old actors, many still clutching their Equity cards! At the other end, I have been hit by loads of youngsters who are trying to get a career going in film.
I'm trying to create something that so far ahs never existed - a Scottish film scene. So far, all we ever got was a parachuted-in film scene and television. I am seriously not interested in TV. I did that and got the T-shirt and my need for the daily grind and mediocrity of television is (counting from left-to-right) precisely zero!
The Byre, your studio sounds wonderful! You clearly have a massive amount of technical know how. All the best to you and your undertaking. Could you say where you're located - roughly? cheers.
In German, there is a saying to describe somewhere that is very remote - it is there where the fox and the hare kiss goodnight! Though we call it the Highlands of Scotland. Not really that remote by Californian standards, but we do our best and at least there's a regular airport half-an-hour away, but the nearest large city is Glasgow or Edinburgh and they are both nearly 200 miles away.
I used to stay at Bettyhill. Beautiful beaches which were hard to reach.
This hotel perched on its own ( close resemblance to "Bates hotel" in Psycho) was full of bar characters all drinking a black whiskey they called 'Black Death', their glasses were all lined up on the bar, everybody was "Stoned" out of their tree. Then they started playing an accordion, it was chaos, then someone shouted I'm a McClane and don't you forget it. Then the fight started! I went to bed at 5 AM and they were still drinking. I have only seen that in films eg, "The quiet man" 1952. Never thought it happened in real life but it does in Bettyhill.
That must be the Far Bay Inn. https://www.farrbayinn.co.uk/» The tourists all go to the Bettyhill Hotel on the main road, a great big rambling place that is now opposite an estate of semi-detached starter-homes.
The guys playing our two main protagonists are from Thurso - to the East of Bettyhill.
That's the one, Bettyhill hotel on the main road. The rooms were 1850's style, no heating, furnishings smelt damp, breakfast was stale bread and curly sausage, which I am sure moved on my plate, cat eat it! I found a dozen .38 cartridges in the car park, obviously one of the drunks had a gun, these were not blanks. I reported it at a police station, probably Thurso, but the officer just laughed and said That's typical! Maybe there's a film there?
Quote - "Go to auctions and buy up the bits you want and upgrade as you go along."
I have just bought four 1kW Frensel lights.  Total cost £1.20.  We already have about 24kW of various other lights, plus a collection of floods and birdie lights.  I am on a veritable scavenger hunt for stuff and will be doing a pick-up tour of London and the surrounding area next week!
P.S. That's £1.20 and not £120!
That makes you the best 'haggler'' around, now I know that "Jocks" are tight and mean with they money but £1.20 is ridiculous. How on earth did you do it?
Let me find my "plus fours" and megaphone and I will be on the next donkey express.
I have just returned from a scrounge-tour of the UK. The four lamps are better than expected and even have 1kW bulbs in them and have still got their barn-doors and filter frames. A re-wire, a clean and a repaint and they'll be lovely!
On the same tour, I also scored a few other bits and pieces and an SD projector (good enough for out-of-focus back-projection) and a Great Dane called Dexter.
Back to the original thread!
I have no intention to dump tungsten lamps for LED equivalents because such equivalents simply don't exist. LEDs are getting better and are great in certain circumstances but there is nothing that comes close to equaling the properties of a 1K, 2K, 5K, 10K, 20K, Mole Richardson Fresnel lamp.
BTW - It didn't take 6K to make the digital shift. I have never shot 6K and have only shot one film that is a full 4K capture even though my DIs have been 4K. It's a numbers game that really doesn't reflect the actual quality of an image and a conversation that has been done to death.
Thank you, Roger, for the definitive answer from the rockface of movie making!  It is as I suspected.  I was however always uncertain as so many people are using LEDs and heap praise on them.  
I have another issue with LEDs and that is colour - green-tinted shadows, yellow teeth and orange skin highlights seem to be common, esp. when combined with budget cameras.  And because of our location and therefore the need to buy absolutely everything we use rather than to rent, having a range of Alexas is just not within the budget.  We have to look at Blackmagic and Panasonic and just hope that one day we will have the money for something better - the same applies to lenses BTW, Xeen and not Zeis - just don't open them up below 2!  Were I to buy top-end anything, she-who-must-be-obeyed would just refuse to take the padlocks off her card-reader!
6K/4K - I was referring to the sensor only and on the budget cameras, it really does seem to make a visible difference, esp. in colour depth. 
As for delivery - I absolutely agree with you and I am totally baffled by the Japanese idea of introducing 8K.  The largest screens in most people's homes are 60" and at that size, many people can't see much difference between HD and 4K.  The driving force behind any film (IMO) must be the image, the story and the action - not the tech. specs!  Up until 2016 (ish) IMAX were still using 2K projectors, albeit with dual projectors for brightness - and I don't remember anyone complaining about the image quality!  
I have not yet seen any commercial projectors above 4K.
(We have been having the same pointless debate in audio with audiophiles convinced that they can hear the difference between 44.1kHz (CDs) or 48kHz (video) and 96kHz sample rates, giving frequencies up to 22, 24 and 48kHz, conveniently forgetting that all microphones only go to about c.a. 22kHz and nearly all hi-fis and PA systems are capped at 20kHz to prevent them from picking up the BBC World Service from the CD player!  There are technical reasons a very few processes are best done at 96kHz - or better still in analogue - but that's about it!)
My goal for the foreseeable future is to be able to produce films whose technical image quality is good enough.  
@The Byre Yes there are many LED lamps that emit a bad color spectrum sometimes with tint shift. Often resulting in the unnatural looking skin tone of a news reporter on location. 
Many LEDs that are now being produced are phosphor-based. The phosphor is a composed to emit the full visual spectrum without shift or hiatus in the spectrum. Some LEDs are pretty good and reach an average Ra of 97+. 
There's one other reason/advantage for using LED lamps. They can be made flicker free. For shooting with non-standard frame rates, high-speed video, or dimming. 
The LEDs must be only DC powered to remain free of flicker. A battery supplies DC power only. And so can a good AC/DC power supply, with no AC leakage. 
The dimming technology to be used, is referred to as Switch Mode Regulation, which operates at 500,000 Hz and is flicker free at virtually any frame rate. 
But as Roger says they are not a substitute for a tungsten fresnel lamp. 
500kHz - that was a bit of info I was looking for. Thanks. The big problem remains that they transmit light at three set frequencies and a digital camera looks for three set frequencies, as indeed do our eyes, though they react to a wider range per colour and overlap. The camera and the LEDs are hardly guaranteed to be a perfect match.

Back to Lighting...

←